Twitter. Its Glory Days Are Over. Or Are They?
Sunday, March 21  marks Twitter's fourth birthday.
Happy Birthday! But does Twitter have what it takes to continue its growth? I have some doubts.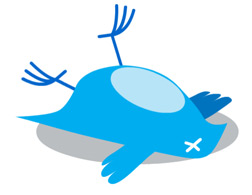 Twitter is not that special anymore. Facebook is replacing so many functions that made Twitter popular in the first place: Most of the socially active people can be followed in Facebook just as easily. You can respond to them privately or publicly and its even easier to share pictures and videos.
Active Twitter users might not be that active inside Twitter after all. You can post 1+ tweets a day, but it does not require your presence anymore. Status updates can be automated, scheduled and links to articles require only few clicks from the blogs. Most of the tweets are links to articles anyway.
Twitter is losing the genuine interaction between users. Twitter is not that exiting to regular people anymore. I hope, that in the future Twitter wouldn't be just a playground for social media fanatics. To avoid this, Twitter has improve. Here is my selection of Loic Le  Meur speculations, that may help to save Twitter from its slow death, IF they will be realized.
Twitter will still be dominant in status updates  – it's the motherboard on which we plug in.
We won't be updating Twitter all manually
Twitter will replace  SMS for millions of people

-it is portable and archives across devices

-you don't need to remember a phone number

-you are not tied to a mobile operator

Location will be one of the most widespread status update
Talking to shops and restaurants via Twitter will become standard and will get opt in coupons as we enter a shop, based on location
There will be more devices publishing updates than humans  WiFi  scale, planes, trains, cars all posting updates
Hyper-local news sites with Twitter geotagging  feature
Also, Twitter has an enormous potential to be the fastest news channel. Most news will reach Twitter before they reach the News anyway.
Lets cross our fingers and see, what we have to say about Twitter on its 5th anniversary.
Social Media Marketing 2019, PPC on 10+ Platforms.

Learn how to market via Twitter, Pinterest, Instagram, YouTube, Facebook, Google and more advertising platforms! This must-have course has a 4.5 rating out of 4,235 ratings with more than 37,000 students enrolled.