Last Updated on by Karl
Leadpages is the best landing page builder out there (see our Leadpages review), but it's not the only one. There are plenty of Leadpages alternatives.
I'm going to cover my 5 favorites in detail so you can choose the right option (#3 is MUCH CHEAPER). I'm not going to build your landing pages for you, but I'll help you find the software to do it!
The best Leadpages alternative really depends on what your business needs.
What don't you like about it?
Do you dislike monthly payments and want just a one-time payment?
Are you not a fan of the drag and drop editor and need something with more features?
Is the annual price a bit much and you need something cheaper?
Are you looking for a complete tool that helps you easily build sales funnels and drastically increase your sales and ROI?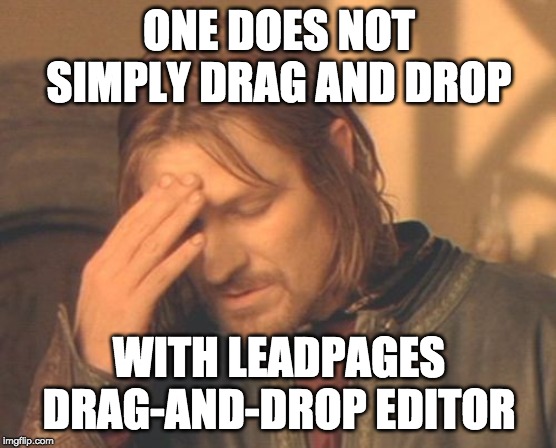 These are the most common issues with Leadpages I hear from people, so I've covered an alternative for each.
I'm going to lead with what is hands down my favorite one….
#1 – InstaPage – Better Editor and Templates
Why Instapage Instead of Leadpages?
More flexible drag and drop builder without the wonky widgets of Leadpages
Blank templates for complete control (Leadpages had uneditable standard templates and flawed drag and drop templates)
Instapage Cons
High-end pricing
Leadpages has far more integrations
Instapage is the top rival to Leadpages and one of the most known Leadpages alternatives. It's seen sort of as "the high-end" version Leadpages for serious marketing pros and big time agencies.
You know how Leadpages' drag and drop editor is a bit wonky, glitchy, and rigid, making you rage quit and introduce your fist to your desk?
Instapages' is the exact opposite: fluid, flexible, and highly functional. As soon as I started using it, I breathed a long, happy "ahhhh" of relief. You get total creative control without the elements randomly popping back into their predetermined widget (And your heart not popping out of your chest).
You still get all of the good stuff that Leadpages offers – intuitive interface, 200+ templates, great customer service – the editor is just superior.
My favorite feature is the completely blank templates that are basically yours to build, even with 0 coding experience. This is the best editor on the market hands down, and the main reason I recommend it as an alternative to Leadpages.
What I Don't Like About Instapage
I'm not going to sugarcoat this at all: Instapage is expensive. It's the highest quality editor on the market in my opinion, so it's well worth the money. But at $99/mo billed annually you pay for what you get.
Also, Leadpages kicks Instapage's butt in the integrations department. You can still integrate Instapage with Google Analytics, Google Ads, Facebook Ads, Shopify, and PayPal. But you can integrate Leadpages with all of those plus your toaster, TV, car, too… just kidding.
#2 – ClickFunnels – If You Need a Complete Growth Tool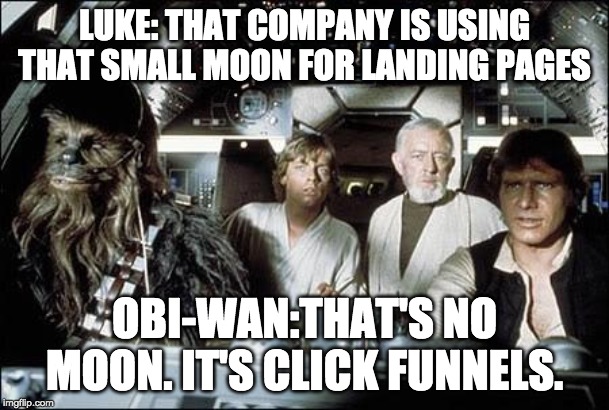 Why ClickFunnels Instead of Leadpages?
You'll find Clickfunnels at the top of most articles covering the best Leadpages alternatives and with good reason.
This meme sums it up: If LeadPages is the supped-up X-Wing fighter of landing page editors, ClickFunnels is the Death Star. With Click Funnels, your business will mercilessly patrol your galaxy zeroing in on targets with a deadly laser beam (From which there is no escaping!).
OK, enough geeking out… You can read our full ClickFunnels review for all the juicy details.
ClickFunnels Pros
Full business growth tool
Sales funnel templates
Greater capabilities with text, email, and social media
ClickFunnels Cons
LeadPages is one of the best tools online for building targeted landing pages to sell products or services.
But what if you want more customers to actually see those landing pages? What if you want to generate more leads, gently massage them along step-by-step through the sales process, and show them a targeted landing page you built yourself with 0 coding experience, no outsourcing, and no high-priced tech team?
That's ClickFunnels. Instead of just a landing page editor, this tool takes you business to the next level by giving you a structure for attracting new leads, "funneling" (hence the name) them through to targeted landing pages, and converting them into customers (Including follow-up tools – more on that in a sec).
That means you can guide your visitors through the sales process (So they don't get lost and click away), point them to the one product or service that solves their problem, and even follow up even if they leave your landing page.
Here's what makes ClickFunnels my personal favorite online business growth tool:
Sales funnel templates: ClickFunnels comes with sales funnel templates for different industries/purposes so you can create a personalized funnel with zero experience necessary.
Landing page functionality: A/B testing, analytics, responsive design, forms, etc.
An intuitive drag and drop editor: I'll admit this, their editor isn't as good as LeadPages, but that's because Leadpages is specifically a landing page editor, so they could put more focus in that area.
A smart shopping cart:  Their cart comes with built-in, 1-click up-sells so you make more money without lifting a finger.
Marketing automation: You can set up your email and Facebook marketing to handle itself.
Hard not to love a tool that handles email, social media, text, sales funnels, landing pages, and affiliate programs all from one dashboard.
What I Don't Like About Click Funnels
OK, remember how I said Leadpages was expensive? Well, ClickFunnels is going to cost you even more.
Let's just say this Death Star is going to cost you ransom in Galactic Credits.
The basic plan starts at $97/mo, but if you want the features that make Click Funnels worth it, it's going to be almost $300/mo. If you're a big marketing operation, then it's well worth it to have a high-converting sales funnel. If you're a smaller company or one-man-band, it might not be worth it.
And the learning curve is STEEP. ClickFunnels claims you don't need a high-paid tech team, but SOMEONE has to understand how to use this thing. If that's going to be you, be prepared to be overwhelmed in the beginning. But man is it worth it.
#3 – Thrive Architect – If You Need a Cheap Alternative to LeadPages

Why Thrive Architect Instead of Leadpages?
One-time payment (seriously!)
Super simple
Cons
Leadpages a bit too steep for your blood?
Do you only need a few landing pages for one site?
Does the thought of monthly payments before your business is even profitable keep you awake at night?
Then Thrive Architect is for you.
Thrive Architect is a simple, straightforward builder that lets you create professional looking landing pages easily and all without the price tag or monthly subscriptions of Leadpages.
TA's pricing structure is really simple, but it's definitely not practical if you're doing things at scale.
Here's how it works.
Thrive Architect Pricing
Thrive Architect pricing is as follows: Single License – $67/5 License Pack – $97
Ready for the best part? This is a ONE-TIME PAYMENT. Pay once and you're done forever. Yes, forevah evah…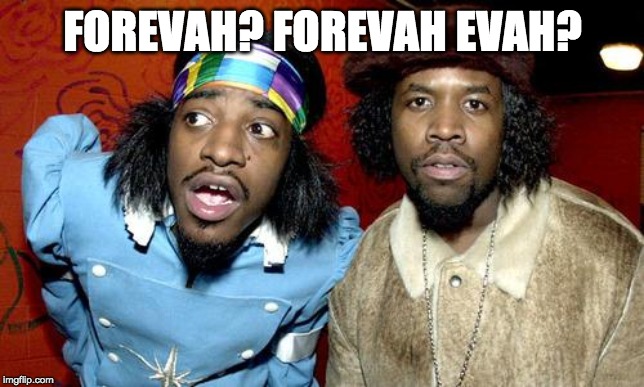 NOTE: I definitely don't recommend Thrive Architect for big agencies or busy freelancers. Site licenses run out quick, and things start to get REALLY expensive without all the benefits of a more expensive tool. Just a warning ;).
I wouldn't call Thrive Architect "simple". It's just not the Swiss Army Knife-type tool that the rest are. It comes with plenty of features to build an awesome landing page though. The editor is simple, intuitive, and drag-and-drop style. You already know plenty about that so I'll spare you an explanation.
Other cool features are:
300+ Templates (W/ Built-In Features): Some of the templates are great. And they come with built-in conversion optimization elements + copywriting tips (they are really basic if you ask me, though).
More Than Just Landing Page Builder: You can build some pretty cool landing pages for webinars, product launches, or even your company's home page.
Formatting Blog Posts: This is actually my favorite feature, and can give you a HUGE edge over your competition. You know how the best blogs (This one especially ;)) have cool graphics, awesome formatting, callout boxes, and all that jazz? Thrive Architect has a simple, built-in function that lets you format blog posts for readability and added value.
Integrations: Thrive integrates with a ton of different services: like Facebook, Mailchimp, AWeber, and Amazon.
Thrive Architect is definitely a solid tool if you're just looking to build some simple landing pages fast and cheap.
But, as you probably expecting, that does mean there are some issues with it….
What I Don't Like About Thrive Architect
Anything that comes for this cheap is going to have issues. The main one is that TA is pretty much JUST a landing page builder. That's it.
Sure, you can format blog posts and all that, but this is really just for building landing pages and nothing else. Some of the features are overly complicated for no reason, but that's not a big deal.
With other tools, you get SMS marketing, email marketing, social media ads, and a free coffee to go.
You don't get anything close to that with these guys. But hey, if all you need is some professional-looking, easy-to-build landing pages, this is perfect for you.
Another thing that really annoyed with me in the past was that it was always "clunky". It'd randomly push some strange code into the landing pages, formatting would randomly break after saving, and overall just caused a lot of headache for what you were getting.
#4 – OptimizePress – A Step Up From Thrive Architect If You Have the Money
Why OptimizePress Instead of Leadpages?
Great extra features – opt-in forms, digital goods, blog themes
One-time pricing instead of monthly
Great for membership sites (Accept Stripe payments, etc)
Cons
Can only use on a certain number of sites
Basic plan is lacking features (And only 3 sites)
Customer support was slow for me. Not sure about in general, though
I originally wasn't going to include OptimizePress in this list of Leadpages alternatives , but it's too damn good to leave out.
If you have the extra money to spend, I highly recommend it over Thrive Architect. It's about $100 more for the 10-site license with all the bells and whistles, but it's totally worth it.
Think about it: $100/yr is roughly $8 a month. That's two cups of coffee at Starbucks for a landing page builder that will make you enough extra money to buy 100 coffees a month.
Why I Like OptimizePress
Aside from the simple drag and drop page editor (noticing a pattern here?), OptimizePress is another features machine:
340+ landing templates
Opt-in forms
Granular metrics
Content drip-feed
OptimizePress is the best Leadpages alternative for building membership sites as well as a great way to create landing pages that convert.
If you want to sell an eBook, online courses, or other digital products, this is hands down the best service out there. OptimizePress lets you:
Create a custom membership portal
Secure content so only members can access
Create targeted landing pages for courses, product launches, etc.
Integrate your site with PayPal, Stripe, or other payment providers
What I Don't Like About OptimizePress
NOTE: OptimizePress' editor isn't as good as Leadpages in my opinion, but I won't say that's a "con".
There are a few things you need to know about OptimizePress before handing over currency:
Site Limitations: Yes, you only pay once, but you are limited to how many sites you can use it on. Even the agency and enterprise plan is limited to 30 sites. Not good if you're super busy.
The Core Plan is Lacking: Yes, it's only $97. Yes, you get a lot of cool features including the membership plugin. But it's lacking in a lot of other features. Fine for just starting out, but not for businesses. You'll have to upgrade to the $197 plan.
I've used Leadpages a lot over my career. I've also used a lot of Leadpages alternatives. There's really no "best". There's only what's best for you. If I were you, I'd figure out exactly what's putting you off about Leadpages and choose the best Leadpages alternative for you based on that. If it's money, go with Thrive Architect. If it's functionality, go with Instapage.
If it's Leadpages' inability to destroy entire world with one blast and conquer the online marketing galaxy, go with Clickfunnels.
Not sure why you hate Leadpages to begin with? Check out our Leadpages review to revisit and see if it may actually be best for you.
That's it for the best Leadpages alternatives round up. Did I miss anything? Let me know what else you'd like me to cover or landing page builders and we'll make it happen. We're also working on a post sharing our best landing page templates across a variety of alternatives to Leadpages.