Content Marketing Reading List: Strategy, Advertising, and SEO
This collection of 15 content marketing posts focuses on strategy, distribution through social media and advertising. Final part of the collection focuses on the SEO side of content marketing. Enjoy!
Content marketing strategy
What Donald Trump Can Teach About Content Marketing
For content marketers getting people to listen is our top priority. And we try to do so by offering content that is of real value – content that matters and sticks. Regardless of your stance on Trump's political campaign, he has built a behemoth career by churning out his own particular brand of content. It may seem haphazard at first glance, but he actually masterminded a very specific strategy to climb his way to the top.

Content Curation Ultimate Checklist: How to Absolutely Nail a Winning Strategy
Curating content is a great marketing strategy to successfully establish your presence as a thought leader and attract the attention of your audience. It may sound counter-intuitive. Why is collecting and sharing other people's content essential to building your own winning strategy? Three reasons…

Content Marketing in Boring Industries by Ross Hudgens [SLIDES]
I found this is a great slide deck and just had to share it with you. Most of us are the marketers who need to make content marketing to produce results in boring industries. Insurance, ball bearings,loans, nuts and bolts, transportation, accounting, law, etc.

The Definitive Headline Guide, For Awesome Content Marketers
A definitive headline guide – I collected the largest sources about headlines and found actionable data for them. With that data, I picked out the most likely methods to make people click your headlines, no fluff.

SaaS Content Marketing: Finding Your Voice and Building an Audience
Here are a few of the things we've experimented with at ChartMogul, and have seen some success in. I'll warn you though, they're not quick fixes or "growth hacks." BUT they will help you grow a quality, sustainable presence in the world of SaaS.

How to Get Top-Notch Publications to Write About Your Brand
Here's an approach that has been a marketing success for us and for our clients. The pillar of the approach is understanding the persona you're pitching to. Imagine John, a 37 years old writer, an aspiring novelist, that averages 100 words per minute. He has a repertoire of 863 blog posts with an average of 176 social shares each. Besides being a natural born writer, he has also managed to bring his own style to play. He's getting 4 pitches an day and you expect him to accept your proposal. So you gotta figure out, what is he really hungry for?

From HBR to Mashable: How to Be a Guest Writer on 11 Popular Sites
Guest blogging is a wonderful and mutually beneficial relationship. It's great for the writer, of course, who might be looking to get her name out there as a thought leader and industry expert while also helping grow her own readership. And, it's great for the media outlets. It's good for them to publish a diversity of opinions — not to mention more articles means more indexed pages, which can be a boon for a site's SEO.

Content marketing for SEO
11 Advanced Link Building Techniques For Future SEO
If you ask me about the core item needed for ranking a website, I would recommend link building. Search engine optimization (SEO) is now a master game of backlinks. Google has launched Panda, Penguin, Hummingbird, Pigeon, Pirate and other updates to establish better search rankings free from spam. If you play smartly, then you'll win higher rankings. If not, Google will use its latest algorithm update to slap you hard with penalties.

Google Glossary: Revenge of Mega-SERP
A glossary of Google features. A reference that we'll update as the SERPs (Search Engine Results Pages) change. If your focus is on organic SEO, why should you care about the wider world of Google features? Put simply, because rich SERP features are no longer the exception to the rule. Across 10,000 keywords tracked daily this is what we saw.

Local Search Ranking Factors 2015 – Local SEO and How to Rank in Google
This year respondents not only rate ranking factors across pack and localized organic results, as in previous years, but also the specfic factors to which they were paying more (and less) attention to since the release of this interface. The individual factors listed in the results are consolidated to just the top 50 in each category.

The Baidu SEO Guide: Marketing Your Brand in China
This guide aims to inform you on a digital strategy in China with a series of useful insights on the structure and make-up of Baidu, how to rank on Baidu, insights into content research and marketing in China as well as ongoing cultural considerations to take into account. Baidu's dominance in the Chinese world of search warrants focusing on it a lot.

Social Media and Content
We Analyzed 37,259 Facebook Ads and Here's What We Learned
We took the text, headline, and news feed link description from 37,259 ads, analyzing them for length, sentiment, and what type of words these ads were using. We also looked at the CTA they used and the links in these ads. Here's what we found.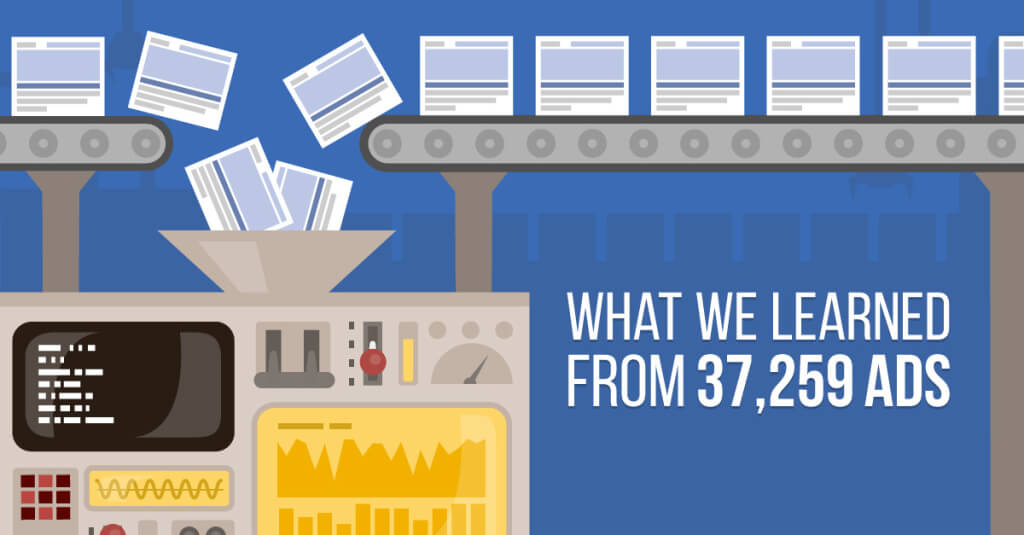 How We Increased Our CTR by 267% on Facebook with this Simple Trick
We decided to push a little harder this "content-marketing-thing". Even though we had blog and posts we struggled to get traffic, so we had to come up with something. Why not try Facebook advertising? So we jumped on it, right there and … and ohh my god we made so many stupid stuff. But you shouldn't so here's a guide to avoid the mistakes we made.

Attention! Facebook is losing its footing
We analyzed more than a thousand international pages. Airlines, fashion labels, consulting agencies and TV stations, just to name a few of the represented industries. We analyzed the development for every single one of them separately. First we are going to have a look at the overall development. Every single page is part of the sample. The results were staggering.

How Much is a Tweet Worth for a Kickstarter Campaign?
By the time this blog post was written, more than 92,000 projects were successfully funded on Kickstarter with $1.67B. Sounds like a quick buck for every entrepreneur out there? Not really. Only 37% of the projects reached their raising goals. What differentiates a failed Campaign from a successful one?

Social Media Marketing 2019, PPC on 10+ Platforms.

Learn how to market via Twitter, Pinterest, Instagram, YouTube, Facebook, Google and more advertising platforms! This must-have course has a 4.5 rating out of 4,235 ratings with more than 37,000 students enrolled.